All 55+ Club members who are Vets, or married to a Vet, or a widow/widower of a Vet are welcome.
Our group meets on the 1st Wednesday of each month.  Please join us at 1000 hours at Community Center.  Please – Remember to wear your Club name badge.
Chino Hills 55+ Club Veterans
Our members, men & women, who served in the U.S. Armed Forces
Email Bruce Simonson, Organizer
or call him at 909-six-eight-zero-1065
Veterans Monument – The City of Chino Hills has approved construction of a Veterans Monument.  The monument will be paid for entirely from private funds and is to be donated to the city.  Fundraising has now begun and you are invited to purchase a tribute brick to help with the project. The bricks can be personalized with a message or tribute. The 4×8 bricks are $175.00 and the 8×8 bricks are $375.00. The bricks will be placed around the base of the monument. The target date for completion of the project is Veterans Day of next year, November 11, 2018.  Click here for the brick order form: Veterans Brick Order Form Dec 2016.  Here are the available graphics for the bricks.  For Corporate Sponsors, please click here. Bricks may also be purchased at the Farmers' Market at the Chino Hills Shoppes on Wednesdays from 4:00 to 8:00 p.m.
Fundraisers for the Veterans Monument:
Thank you for those who attended the Applebee's and Tahoe Joe's fundraisers.  They were very successful!
Check back for future fundraisers.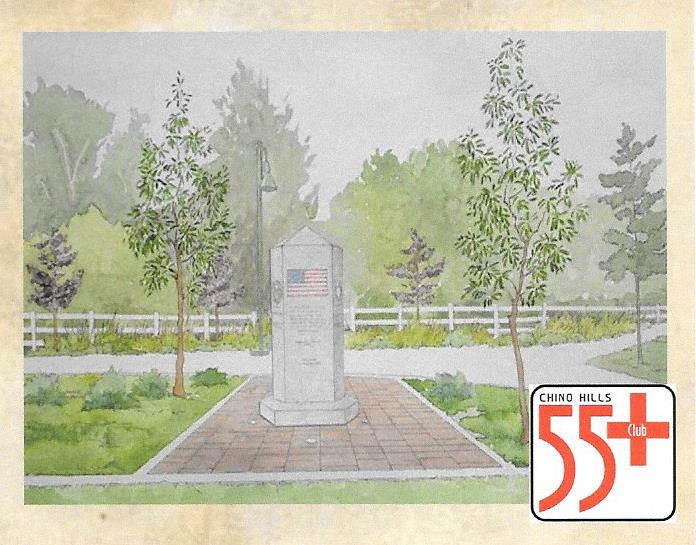 Click on the Branch Insignia for 55+ Club members who served in the U.S. Armed Forces
For uniformity, the 'Veteran' Patch should be placed 1-1/2″ below the seam. this will be on your right arm centered on the imaginary line of the top of your shoulder.
The Organizational patch (Army, Navy Etc.) should be about 3/4″ below the 'Veteran' patch, also on the right sleeve. An American flag patch may be placed on the left arm 1-1/2" below the seam. — Joe
38 U.S. Code § 101 -
The term "veteran" means a person who served in the active military, naval, or air service, and who was discharged or released therefrom under conditions other than dishonorable.